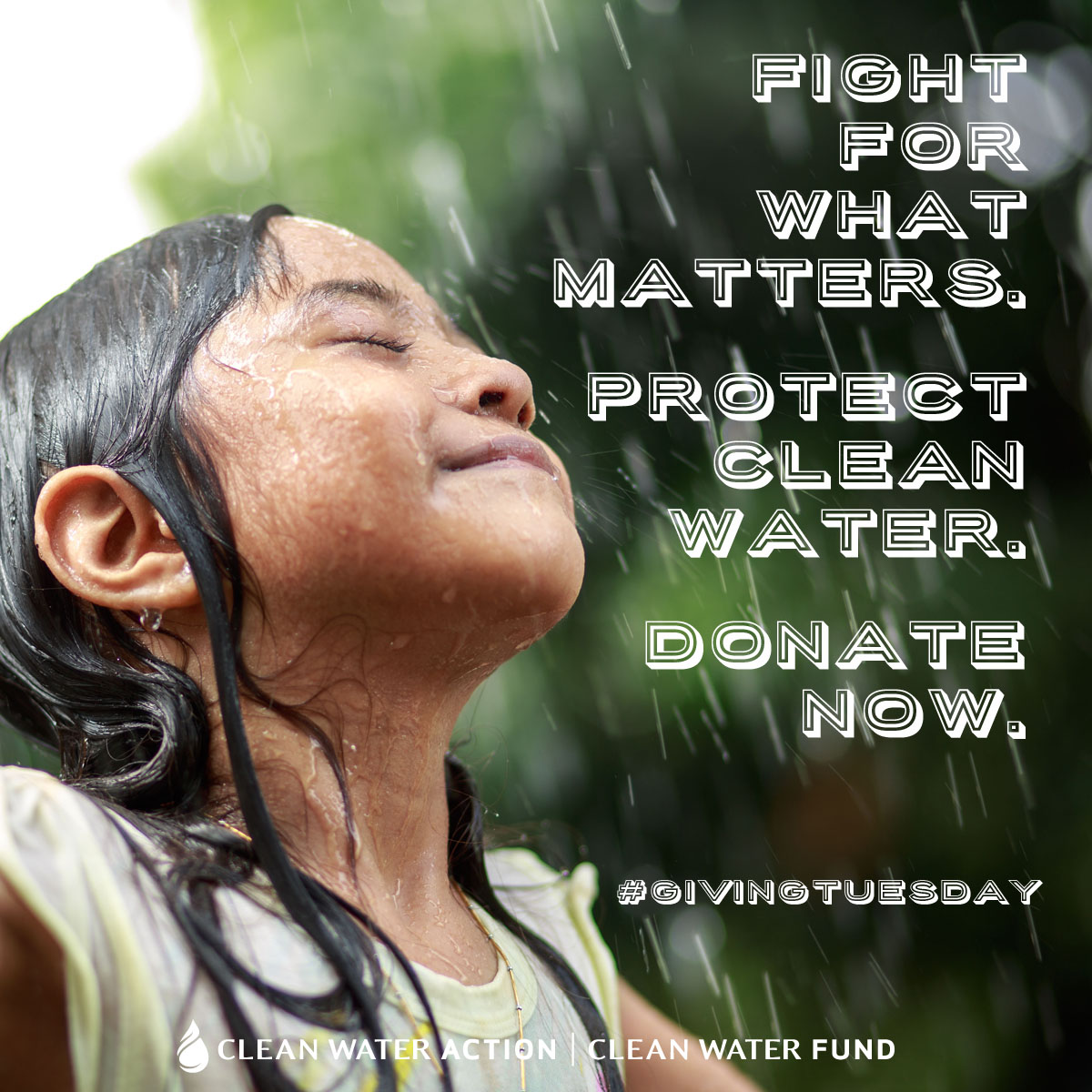 What is Giving Tuesday? (It's all about the water.)
November 28, 2017
It looks like November 27, 2017, otherwise known as Cyber Monday, set a new record for online shopping in a single day. That's on top of Black Friday, the day after Thanksgiving, where consumers are exhorted to rise early and spend freely in big box stores and online.
Giving Tuesday – the first Tuesday after Thanksgiving – is a day to remember and celebrate what we love, and the things for which we're truly thankful. It is in part in tended as an antidote to all the shopping and crass commercialism.
How it works is simple. Everyone has causes they're passionate about. Ours is clean water. Some big philanthropic organizations and businesses have offered up big prizes and matching funds to call attention to the day and to encourage more people to participate. All you have to do is donate or pledge online. You can make your tax deductible gift to Clean Water Fund here.
Our goal for Giving Tuesday – everyone's goal – is to inspire all those shoppers who went wild on Black Friday and/or Cyber Monday to do the same one more time on behalf of charities that matter most to them. In our case, it's all about the water.
Now is a great time to kick off the rest of this Holiday season by supporting Clean Water Fund. This is simple and basic – it's about protecting clean water, now and for future generations. It's about protecting health. It's about Fishable, Swimmable, Drinkable water for everyone.
Help us set a new Giving Tuesday record for Clean Water. You'll be glad you did.
Another Way to Support Clean Water
We recognize that not everyone is able to make a big Giving Tuesday gift – the timing isn't always right, even if you weren't one of those "shoppers gone wild." Here are a couple of other suggestions:
Go online and make a smaller one-time gift to Clean Water Fund. Even chipping in $6 or $12 will make a big difference. It's your participation that will help us hit those big numbers.
Make your gift a monthly commitment. Even a modest amount donated automatically each month adds up quickly to make a big difference.
Support Clean Water without spending or donating anything other than a minute of your time. Clean Water Fund and our partners at SurveyMonkey Contribute invite you sign up to take short surveys to benefit our cause. To date we've received more than $650,000 over the past few years, from nearly 400,000 volunteer clean water survey-takers. We hope you'll consider joining them.